Lifetime Warranty
Hygienist-backed oral care
24/7 Expert support
Sale price
$19.95 USD
Regular price
Unit price
per
Sale
Coming Soon
Introducing the Kids Toothbrush Superhero, Captain Cavity! Transform brushing into an exciting adventure. Join forces with this soft bristle toothbrush that serves as the ultimate tool in dental hygiene for kids. With Captain Cavity by your side, brushing feels like an action-packed movie.
This super toothbrush is durable, reusable, and collectible. The large grip size makes it easy for small hands to hold. Its super soft bristles will make your little teeth feel amazing. Develop good brushing habits that will last a lifetime with Captain Cavity!
What's Included

1 character toothbrush with extra soft bristles
1 extra replacement brush head
2-minute animated story to watch while brushing
Pediatric Dentist Recommended

Dentists also recommend

Replacing your brush head every three months
Brushing for two minutes twice a day
Promotes Proper Brushing Techniques

Our manual toothbrush design promotes proper brushing technique. The unique thick handle size helps develop neuromuscular skills and dexterity.
FREE Shipping

We offer FREE standard shipping on all domestic orders!
View full details
Lifetime Warranty
Hygienist-backed oral care
24/7 Expert support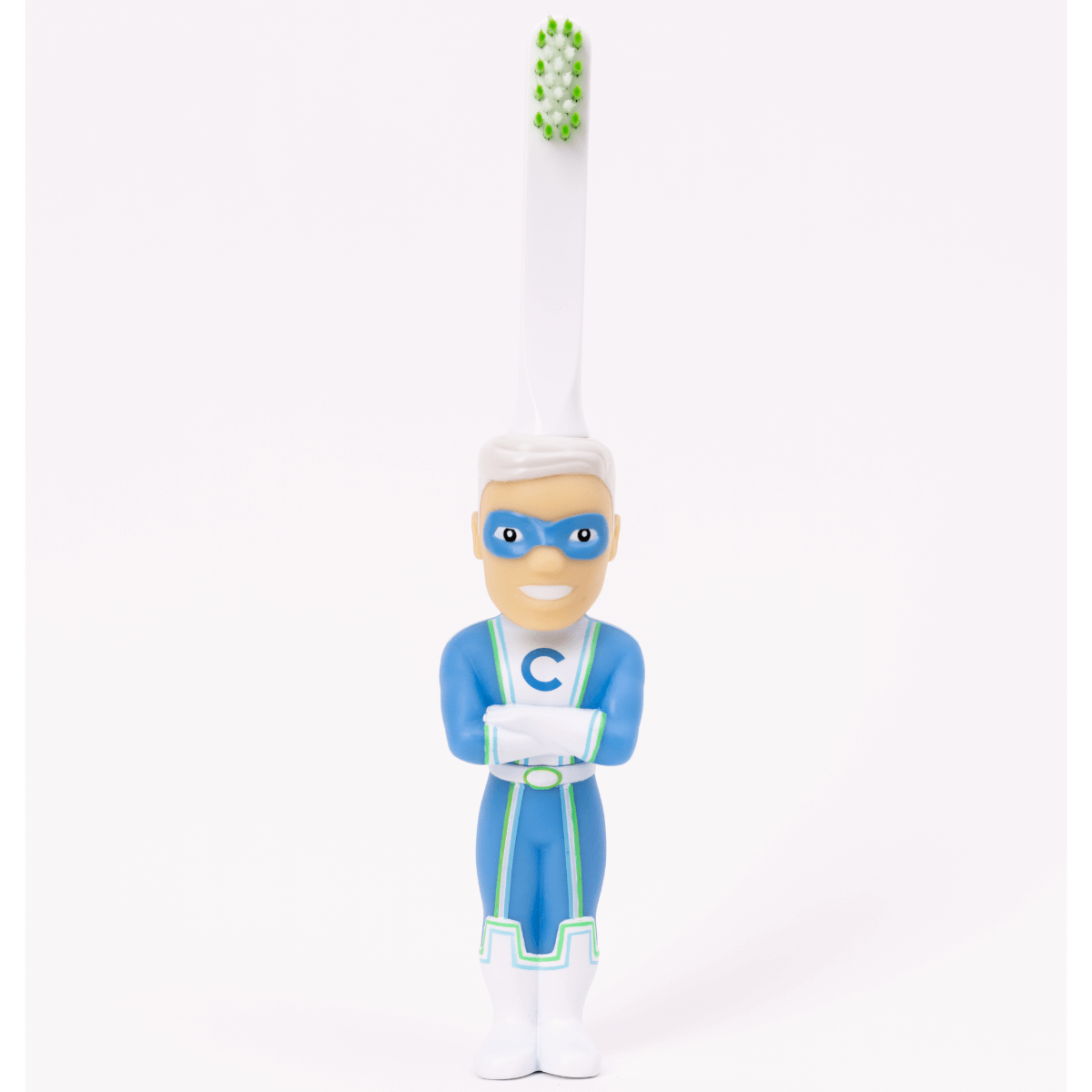 Not only will your child feel like a superhero while using Captain Cavity, but they'll also learn the importance of good dental hygiene. Our superhero toothbrush, Captain Cavity, comes with a two-minute animated story that not only entertains your child while brushing but also emphasizes the importance of fighting against cavities!

Captain Cavity is sure to be your child's new favorite toothbrush, making brushing a daily adventure rather than a chore. Order Captain Cavity now and let your child become the superhero of their own dental routine! With our approach to brushing, your little one will develop healthy dental habits that will last a lifetime. So, say goodbye to boring brushing routines and hello to the exciting world of our superhero toothbrush, Captain Cavity!
Animation
Enjoy This Clip of the Two-Minute Animated Video Included With Your Brush!
Captain Cavity and the Tooth Fairy Adventure!
The Toothbrush Toys Adventure Series
My children LOVE toothbrush toys. They actually get excited to brush their teeth!
Sam
12/10/2022
Brushing teeth used to be such a struggle until this product. My son absolutely loves his new brush and even asks me to brush longer. This is a total game changer! Love it!
Sara
01/29/2023
The toothbrush and video are great, the kids love both! Will definitely recommend.
Matt
01/23/2023
Our Dental Ambassadors
As part of our initiative to improve dental hygiene amongst kids in the U.S, we have selectively chosen a group of dental professionals to make up our team of dentist ambassadors.
Frequently Asked Questions
Is This a Toy or a Toothbrush?

All Toothbrush Toys are high quality toothbrushes that have character bodies that could be played with as a toy after the bristle insert is removed. The main use of our toothbrushes is to brush teeth, but the unique design and fun character creates a fun brushing experience that kids can't resist. By collecting the whole Toothbrush Toy collection, your child can use their favorite toothbrush until they want to switch to a new one, removing the brush head from the previous one and keeping it as a toy.
Is This Safe?

Yes! Toothbrush Toys are just as safe as any traditional toothbrush. All of our brushes and bristles are created with laboratory tested materials that are safe for kids to use and have in their mouths. Our thicker body design also helps prevent choking as the entire brush cannot be inserted into a little mouth! Toothbrush Toys are safe and can be used by children ages 2 and above! We recommend adult supervision for children under 4 to ensure proper brushing techniques.
Does the Brush Head Come Off?

Removing the brush head is difficult for children but not for adults. To replace the brush head, simply grasp the body with one hand and pull the brush out from the base with the other hand. Our tight snap design prevents toothbrush malfunctions during use.